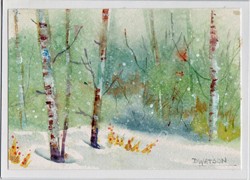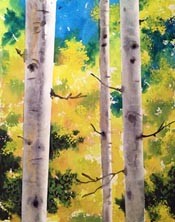 Learn to paint trees with confidence, twice! with two lessons and two basic watercolor techniques.
This course will give you realistic trees the first time and every time for beginners on up. With simple, step by step directions, you can quickly master these skills and see your trees improve overnight. Free bonus section for each skill with additional exercises and videos for more practice and paintings.
Lesson 1 uses scraping for birch trees that seem to paint themselves for a simple but charming snow scene. Create gift cards while learning valuable basic skills. Estimated 1 to 2 hours to complete.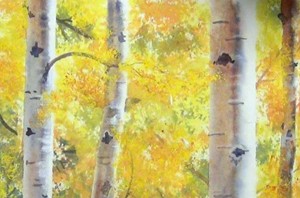 Lesson 2 combines sponging, masking and beautiful fall colors for elegant white aspen trees in a quick, easy painting. Estimated 1 to 3 hours to complete.
These were the two most popular lessons from 2016. Students loved how easy it was to create beautiful paintings to hang in their homes, impress their friends, win awards and even sell! (One student took first and second place at a local art show with her birch paintings.)
Post any questions or comments on this course and I'll answer in the Frequently Asked Question section within a day or so - your teacher is always with you.