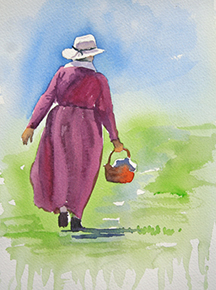 Trying It On For Size
Picking a color combination can make an artist freeze in panic.
But, relax.......
Take your best guess of color combo and spend five or ten minutes painting a little thumbnail to see if the colors work.
It's quickly obvious to visually oriented artists whether a color combination is a go, or a no.
Once you get the go - paint your masterpiece using those colors.
Small or large, quick or months of work, color combinations will make or break your paintings.
Before you invest a lot of time, play a little. It may take you on the fun road to success!